White Label Digital Marketing Services
If you are a Marketing or PR Agency you should be offering Digital Marketing services to your client bases such as Paid Ads(Google Adwords, Facebook Ads, LinkedIn, etc) as well as SEO services(Google Search). Paid Ad campaigns are a great way to get targeted traffic to your clients' websites. We can create campaigns with laser-focused demographic targeting and manage them for you.
Paid Ad campaigns are a great way to get targeted traffic to your clients' websites. We can create campaigns with laser-focused demographic targeting and manage them for you. Remarketing campaigns are an often overlooked way to get previous visitors back to a website.
We are often hired to audit and clean up paid ad campaigns which result in better CTR and conversions often with lower costs per acquisition(CPA).
While paid Ad campaigns are great for immediate and specific needs such as remarketing, the benefits of investing in SEO(Search Engine Optimization) will reap benefits(aka focused traffic) for
the long term.
If it rare that a website visitor will make a purchase or fill out a lead form on their first visit to your clients' websites(or yours!) which is why we implement complete funnel multi-touch marketing campaigns. Knowing which channels to reach(touch) customers isn't limited to just digital and we often work in conjunction with print, direct mail, TV and radio campaigns.
While you may be doing some these,  an often missed component is Website & Conversion Optimization. You've worked so hard to get paid, organic & print traffic to a website only to have a visitor abandon that website(bounce) in 10 seconds.
What happened? Why are the bounce rates so high and the conversion rates so low?
Most websites are either developed using standard templates designed a few years ago or they suffer from what we call "owner design ego". Owner Design Ego is when a website design is dictated by what the business owner(s) wants to see on the website rather than what the potential visiting customer needs to see. Often these sites have image carousels(sliders) and try to stuff as much info about the company and how great they are into the top half of the home page...you know you've seen it many times! We can't say this enough times, but image sliders as the main element of a homepage have horrible conversion rates and distract visitors from digesting the rest of the information on the homepage. Several studies have mentioned this going back to 2012! If your client's website has an image slider it is time for a redesign.
For most website visits, you have mere seconds to grab a potential customers attention and convey to them you can solve their problem with your product or service.
To add further friction, many websites have complicated lead forms or messy checkout options. "I live filling out long forms" said no one ever!
We have taken our years of website development experience and combined them with our digital marketing experience to go through websites and redesign them for an optimized visitor experience that leads to higher leads (and purchases for e-commerce sites).
Do you monitor the analytics of your clients' websites? If you answered no, how do you have any idea on how their digital campaigns or specifically which campaigns are successful?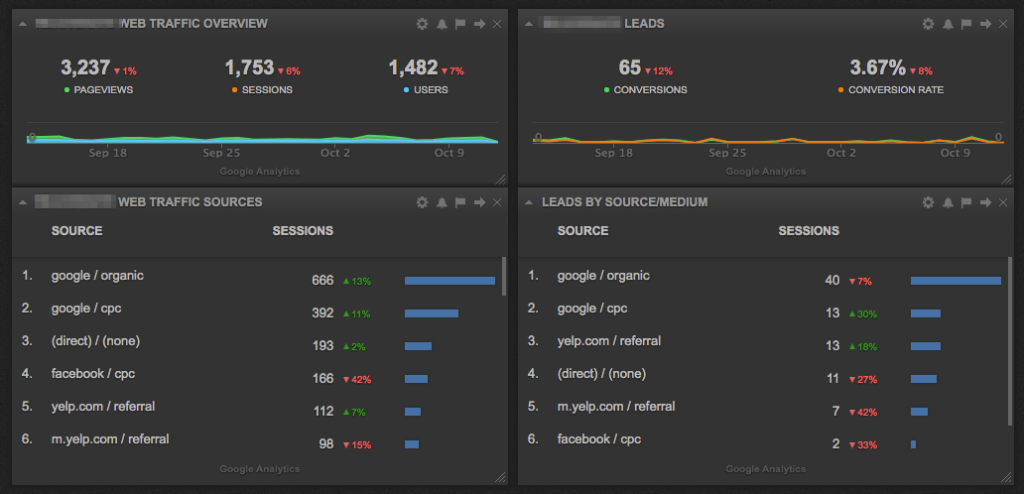 When it comes to Analytics, we really are are geeks and often have dashboards like this up on one of our monitors so we can track leads and sales for our clients. At the very least, you should use Google Analytics, but we recommend using Google Tag Manager for more flexible control of Analytics code. We take analytics and user behavior even further implementing heat maps and session recording so that we can really nail down a site design that resonates with potential visiting customers.
Rich began his career as an IT Consultant and transitioned into websites & more creative marketing campaigns along with SEO, PPC, and Social. Rich was a large contributor to the Austin WordPress scene as a regular teacher for website development and e-commerce.
With over 9 years experience in the med spa and day spa sector he does an incredible job ensuring each process is thorough and complete.
Starting in healthcare, Irina pivoted to embrace her passion for content writing and website design. With over 9 years mastering WordPress and amplifying social media presence, she brings a wealth of expertise.
When she's not crafting digital stories, she's off traveling with her family and two rescue dogs, hiking, or savoring a fine whiskey.
While a member of your team might possess a foundational grasp of SEO or PPC, the depth and daily commitment we bring to these services is unparalleled
This is where we come in!
We can supplement your existing staff and/or take your offerings further. Fill out the form below with your needs and we will get back to you shortly on how we can work together.